---
Huawei P20 Dropped from 21st floor and it is Still Working.
---
Huawei P20 smartphone "survived" after falling from the 21st floor. Of course, the smartphone in the photo does not look very presentable, but it continues to work.
The user of Huawei P20 managed to drop the smartphone from the 21st floor, as a result, the device fell on the pavement under the windows. Everyone, including the owner, thought that the smartphone had crashed into a cake, but it turned out to be stronger than expected.
SEE ALSO: Oppo R15x With In-Display Fingerprint Sensor, WaterDrop Notch Launched
SEE ALSO: OpTic India disqualified from eXTREMESLAND CS:GO 2018 for hacking
The screen and the back panel crashed, the case itself bent and the rear camera broke. However, the smartphone turns on, recognizes the user by face, Bluetooth, Internet and instant messenger work correctly. Note that a drop from a height of 50 meters is far from the standard strengths of smartphones and this unit was just lucky to land successfully.
SEE ALSO: Samsung's W2019 Android-powered flip phone leaked in a video
Here is What the owners Posted :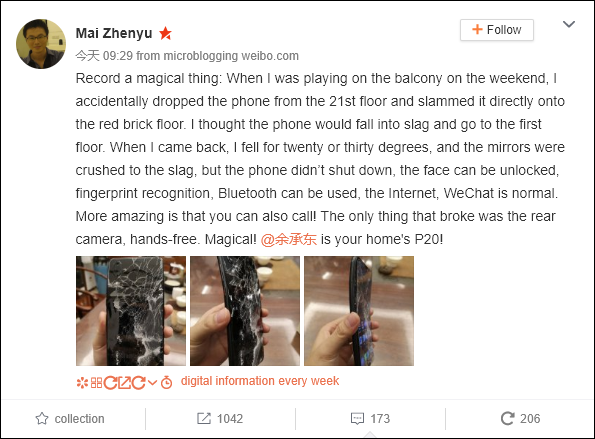 SEE ALSO: Xiaomi Mi Mix 3 listed on Jingdong ahead of launch